Tis the season for Sombre!
Move over Ombre!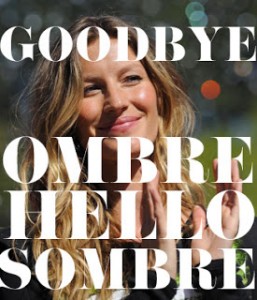 By now you have undoubtedly heard of the ombre haircolor trend. Ombre has been the hottest look the past few years, but now it will make space for a more natural, softer–SOMBRE!
The Sombre is a softer and more natural ombre. The technique involves the placement of colors that are similar in level and or tone, progressing from dark to light, from base to ends. Sombre includes lowlights to create a very natural graduation and diffusion of color along the hair strand for the most natural looking finish.
This look is great for women who like ombre, but are looking for a less drastic color gradation.
The hot Sombre colors this fall and winter are mochas. They create a warm, robust look that is reminiscent of  creamy, chocolatey indulgence. This palette is rich and radiant, and creates a luminous shine.
We are proud to share that we use Inoa Color by L'Oreal Professional. Inoa is ammonia and odor free. Inoa is a phenomenal product, adding shine and hydration while giving you the best results in haircolor.
Come into the Lisa Marie Owens Salon for a custom mocha, crafted for your special look. We expertly apply the color to create dynamism and dimension to bring out your unique glow.
Lisa Marie Owens Salon
610 Lucerne Ave
Lake Worth, FL 33460