Wedding Illustrated fall/winter features a bride styled by Lisa Marie Owens at The Breakers hotel in Palm Beach, Florida.
Weddings Unveiled, Real Weddings
Michelle Parparian, long time client of Lisa Marie Owens as featured in the Palm Beach Post.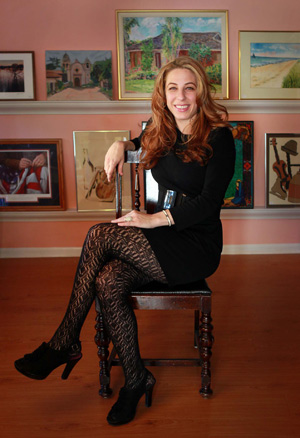 THE SCENE MAKER: MICHELLE PARPARIAN
WHO SHE IS: The stylish 37-year-old Delray Beach entrepreneur has shared her love of vintage clothing, jewelry and accessories in a continuous stream of new ventures — from bricks-and-mortar shops to online boutiques, from the twice-monthly, open-air Sunday markets that she oversees in Boca and Boynton, to the annual Retro Indie Market. With longtime friend and business partner Amanda Linton, Parparian will play host at this year's Retro Indie Market on Saturday in Boynton Beach. The market showcases more than 70 local vendors offering vintage finds, quirky handmade crafts and homemade goodies (save room for cupcakes!). Retro Indie Market, 11 a.m. to 6 p.m. Saturday, Boynton Beach Woman's Club, 1010 S. Federal Hwy. RetroIndieMarket.com. Admission is $5. | Directions, invite a friend A few of her favorites: • FAVORITE SALON: Lisa Marie Owens Hair Salon. "Her skills are very well-known in South Florida; in fact, L'Oreal hired her as a traveling instructor. She does it all, from blond to pink hair color, on-point haircuts and special-occasion hair do's. You will not be disappointed." Lisa Marie Owens Hair Salon, 610 Lucerne Ave., Lake Worth, (561) 585-8219 • 
Michelle Parparian — who helps run the Retro Indie Market, coming Saturday to Boynton Beach — in her favorite Palm Beach County thrift shop, The Turnover Shop. (Allen Eyestone / Palm Beach Post)
Amanda Linton is a long time client of Lisa Marie Owens, she is the founder of Stitch Rock and Art Rock.
Amanda co-owns with her husband JR, Slushbox Art Gallery & Ink & Pistons. She has been featured in many local publications.